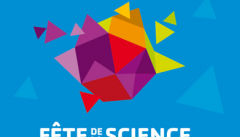 Training Course
Science Festival "Fête de la Science" 2018
The Science Festival "Fête de la Science" takes place at CETHIL from Wednesday 10th to Sunday 14th October 2018. Thursday and Friday are reserved for school children, and Saturday is open to the general public.Come, one and all...!Program :
fun experiments around the concepts of heat and temperature
a demonstration model (about 1 m3) of an energetically autonomous house, made by students of the Lycée Albert-Camus of Rillieux-La-Pape
Since 2012, the laboratory also offers fun little films on heat transfer...- Episode 1: "What's temperature?"- Episode 2: "Heat transfer"