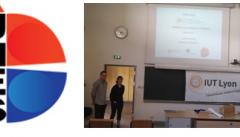 Research activities
June 2018: Christophe Lucchesi awarded at the National Days on Solar Energy
Christophe Lucchesi, PhD student at CETHIL in the Micro and Nanoscale Heat Transfer group (MiNT), shares the prize for the best scientific contribution by means of a poster at the fifth edition of the 2018 French National Days on Solar Energy (Journées Nationales sur l'Énergie Solaire, JNES), which took place in Villeurbanne (Lyon area) from June 27th to 29th June, 2018. The work of C. Lucchesi, who is in the second year of his PhD thesis, consists of developing a near field thermophotovoltaic converter at an experimental scale. Lucchesi shares the prize with Camille Avenel (Clermont-Ferrand), also a recipient of the prize, who studies the aging of mirrors in solar power plants.
Thermophotovoltaic conversion (TPV) can produce electrical power from the heat emitted by infrared radiation. This process has applications in heat recovery or in the conversion of solar energy. The positioning of a TPV cell in the near-field of a radiating heat source, i.e. at a very short distance of less than a few microns, makes it possible to significantly increase the generated electrical power.
The award-winning communication, whose co-authors are P.-O. Chapuis and R. Vaillon for CETHIL, and D. Cakiroglu, J.-P. Perez, T. Taliercio and É. Tournie for the Institute of Electronics and Systems (IES, Montpellier), is part of the project ANR DEMO-NFR-TPV which aims to establish the experimental proof of principle of conversion to near field TPV. The JNES are organized each year by the French National Fereration on Solar Energy (Fédération de Recherche sur l'Énergie Solaire, FédEsol).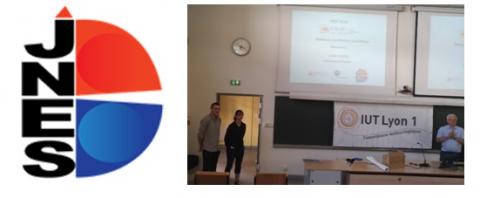 See the abstracts of the communications on the JNES 2018 website.
Contact: P-Olivier Chapuis and Rodolphe Vaillon, researchers at CETHIL
Additional informations
Keywords (tags)