The Centre for Energy and Thermal Sciences of Lyon (CETHIL) is a joint centre between the National Institute for Applied Sciences (INSA Lyon), the French National Scientific Research Centre (CNRS) and the University Claude-Bernard Lyon 1. About 130 collaborators work for the Centre. The applications of the investigations performed at CETHIL span over a wide range of fields, including electronics, the nuclear energy sector, aerospace, the automotive industry, the design of buildings and renewable energies.
Key strengths and expertise
Research at CETHIL covers many topics linked to heat transfer and energy-related systems and devices. CETHIL is one of the key centers at the national and international levels where a so-large range of spatial and temperature scales are investigated: from the nanostructure to the building and urban area scales, from liquid helium or slurry ice up to combustion temperatures.
Topics under study can be classified according to the following categories:
Physics of heat transport phenomena
The goal is to understand, characterize, predict or control heat transfer phenomena and their coupling to other phenomena, at different spatial, time or temperatures scales. This encompasses in particular topics involving heat convection, heat conduction, thermal radiation or phase-change heat transfer.
Heat transfer in complex systems and devices, and their energy efficiency
Topics investigated deal in particular with building optimal energy design and devices such as refrigerators, thermal engines and combustion chambers, solar-related systems.
Processes driven by heat transfer
The impacts of heat transfer are assessed on various types of processes, in particular for polymer shaping and industry-related application.
Few pages of this website may be partly written in French, especially those related to recent news of local interest or linked to the diary. Feel free to contact us if you want more information.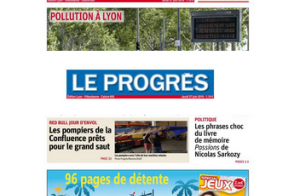 Research activities
- 27/06/2019
How to cope with heat waves? A researcher of CETHIL answers to newspaper "Le Progrès"
Christian GHIAUS, faculty at CETHIL, reminds us that the human body is an engine that consumes energy, and that it is necessary to facilitate the dissipation of this energy towards the environment during periods of hot weather.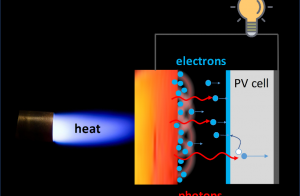 Research activities
- 07/06/2019
Hybrid thermionic near-field thermophotovoltaic converter
The conversion of thermal energy into electrical energy would make it possible to overcome the problem posed by the intermittency of solar or wind energy. Different paths are currently being studied, and a new concept has just been proposed: a hybrid near-field thermophotovoltaic/thermionic device.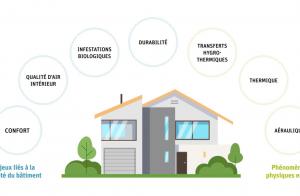 Staff
- 01/06/2019
Dany Escudié appointed Chair of the Scientific council of CSTB, the French Center for Building
CSTB's mission is to guarantee the quality and safety of buildings. The role of the scientific council is to carry out a scientific evaluation of its research programs.
All news