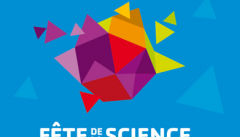 Training Course
Science Festival "Fête de la Science"
The Science Festival "Fête de la Science" takes place at CETHIL every year in October, in the frame of the national event. Thursday and Friday are reserved for school children, and Saturday is open to the broad audience.
More than 260 people could visit us in 2021, from the youngest age to, let's day, older one... ;-)
Program:
Fun experiments around the concepts of heat and temperature
A demonstration model (about 1 m3) of an energetically autonomous house, made by students of the Lycée Albert-Camus of Rillieux-La-Pape
A large-size Stirling heat engine and a thermoelectric generator
To go further:
Since few years, the laboratory also offers funny little movies on heat transfer on Youtube...
- Episode 1: "What's temperature?"
- Episode 2: "Heat transfer"
See you next year!