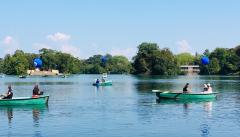 Partnerships
Popular science: Talk to a scientist in a surprising location...!
CETHIL is participating this year in the "Conférences embarquées" (embedded conferences) of the CNRS which are dedicated to the general public and will take place at the Tête d'Or park in Lyon on Saturday August 29, 2020. The principle is to bring together a scientist for 20 minutes with a small audience for a surprising conference, in a boat on the lake.
More information here!
Additional informations
Keywords (tags)