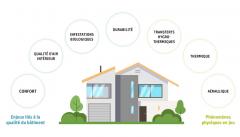 Staff
Dany Escudié appointed Chair of the Scientific council of CSTB, the French Center for Building
Dany Escudié, CNRS Research Director at CETHIL and previously director of the Centre, has been appointed Chair of the Scientific Council of
CSTB
, the French Scientific and Technical Center for Buildings, by its CEO, Etienne Crépon. In this role, Dany Escudié's mission will be to support the "development of partnerships with research laboratories", "strengthen complementarities" and "promote interdisciplinarity".
CSTB
's mission is to guarantee the
quality and safety of building
s. It brings together multidisciplinary skills to develop and share critical scientific and technical knowledge. It accompanies the actors in the cycle of innovation from the idea to the market and in the transformation of the building world in connection with environmental, energy and digital transitions.
CSTB
has five key activities: research and expertise, evaluation, certification, testing and dissemination of knowledge. Its field of expertise covers construction products, buildings and their integration in the neighborhood and the city. The organization has a thousand employees on four different sites in France. 
The role of the
Scientific Council
is to carry out a scientific evaluation of CSTB's research programs. Its mission is to evaluate and advise on the scope and scientific quality of projects, the development of transdisciplinary approaches, the achievement of academic partnerships, the interaction with the socio-economic environment, the dissemination of results, their valorisation, the involvement on training and appreciate the research strategy.
See the news on the AEF website (in French): https://www.aefinfo.fr/depeche/605448
See the news on the website "Le Moniteur".
Image: website of CSTB.