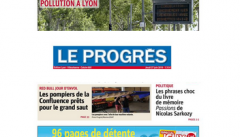 Research activities
How to cope with heat waves? A researcher of CETHIL answers to newspaper "Le Progrès"
Christian GHIAUS, Professor at INSA and researcher at CETHIL in the team dealing with "Heat transfer and Energy in Buildings in their Environment" (THEBE), was interviewed in the newspaper Le Progrès on Thursday, June 27, about the hot weather observed currently in France. Among the issues discussed, the meaning of "apparent" temperature, the impact of moisture and the ways to improve the feeling, in this period, by avoiding intense efforts and promoting good practices that are sometimes very intuitive. In particular, Christian GHIAUS reminds that the human body is an engine that dissipates a thermal power of the order of a hundred watts.
The interview can be found on the website of the newspaper Le Progrès (in French).
Additional informations
Keywords (tags)