Access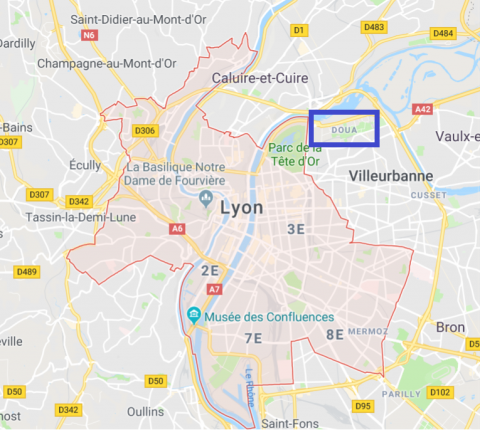 CETHIL is installed on a total surface of about 2500 m², spread across three sites under the INSA Lyon jurisdiction on the La Doua - LyonTech campus.
The offices are located on the 2nd and 3rd floors of the Sadi-Carnot building. The experimental devices are distributed between the Sadi-Carnot, Claude-Chappe and Gustave-Eiffel buildings. You can refer to the plan associated with this page for more information (under the left menu).
CETHIL benefited from the "Plan Campus" initiative, which allowed a partial renovation of its main building, the Carnot building.
How to get to CETHIL from the airport or the Part-Dieu train station?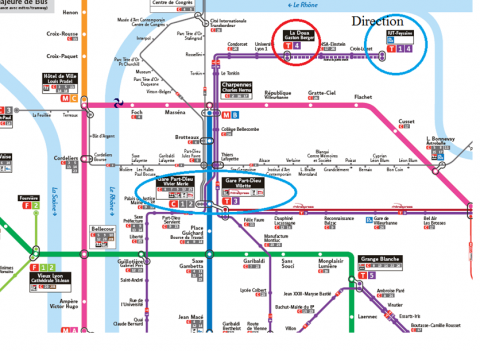 If you arrive from the Saint-Exupéry airport and want to reach CETHIL, you can take the Rhônexpress tram that connects the airport to the city.

(i) Get off at the

"Vaulx-En-Velin La Soie"

stop and take the subway line A towards the Perrache station.

You have to get off at the Charpennes stop.

(ii) The other option is to stay in the Rhônexpress until you reach the terminus, the Part-Dieu station (slightly longer option).

From the Part-Dieu train station or the Charpennes stop, there are two tram lines that will allow you to reach the La Doua campus.
The first possibility is to take the T4 line, towards "La Doua Gaston Berger".

At the Part-Dieu train station, the T4 line stop is located next to the Rhônexpress - if you come from the airport, you do not need to enter the train station.

If you came by train, exit the station through the "Porte des Alpes" (Part-Dieu Villette).

The second possibility is to take the T1 line in the "IUT Feyssine" direction.

If you came by train, choose the "Porte du Rhône" exit (Part-Dieu Vivier-Merle, shopping center).

If you have arrived from the airport with the Rhônexpress, you must enter the station and cross it entirely.
The tram stop nearest to the Sadi-Carnot building is "La Doua Gaston Berger" (the following stop "INSA Einstein" is also a good choice, especially to go to the Gustave-Eiffel building). Follow the tram rails in the direction you came from, then turn left after about thirty meters in the "Rue de la Physique" (see pictures below). The Carnot building is less than a hundred meters away.

The hotel closest to campus is the IBIS Styles Villeurbanne. There are other hotels nearby, but they are only accessible by bus and not immediately by tram.