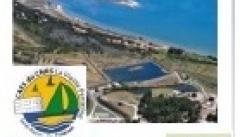 Research activities
CETHIL co-organized the 2017 Phonon School
CETHIL co-organized the 2017 Phonon School: Wave Phenomena and Phonon Thermal Transport from September 3rd to September 9th, 2017, in Saint-Pierre-d'Oléron (Charente-Maritime).
Speaker presentations can now be downloaded.
Thank you all for your participation in Oléron!
- The final program is available here . You will find summaries and links to presentations here .
- Do not hesitate to contact the organizers via the PhononSchool e-mail address if you have any questions!